I have said this earlier, my travels across the world have played a big part in my inspiration with everything that is Skyy. Over the years I have seen different kinds of embroidery, textile and tapestry which has helped me design all these beautiful things. Chinoiserie embroidery is one of the kinds of embroidery that has influenced me a great deal and I wanted to share that with all of you.
If you are wondering what is Chinoiserie embroidery and why I am so enamoured with it, let me give you a little glimpse into this beautiful art form.
A little history
Chinese embroidery was first developed by local women to decorate their clothes, pouches and bedclothes. In ancient times, Chinese girls in towns and cities had to learn the embroidery skill at their early age, which will give them an advantage when they are going to get married. The themes of Chinese embroidery are mainly flowers and birds. With its designs rich in life and full of colours.
The Chinese have always been known for their beautiful fabrics and equally exquisite embroidery. During the 17th and 18th century, the West became fascinated with all things Asian.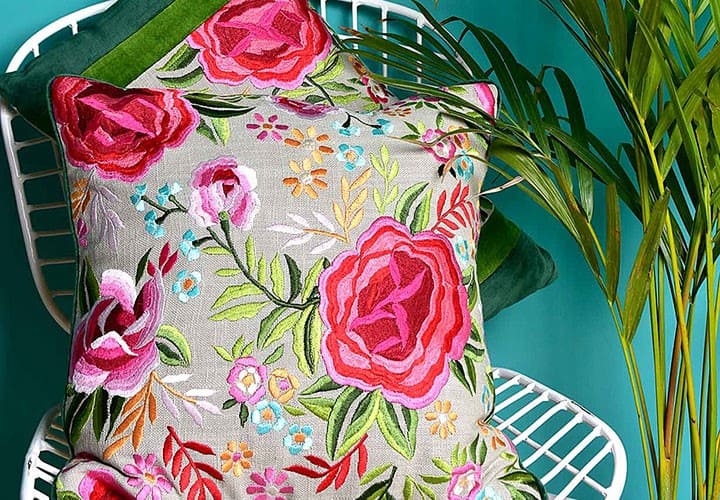 Chinoiserie comes from the word chinois' which in French means Chinese or related to Chinese.
At that time porcelain, silk and lacquerware became extremely popular and it was seen as the height of fashion to have or wear Chinoiserie themed products. But since the Europeans did not have easy access to the original works and they were super expensive, they used what they had to draw inspiration to create things which were 'Chinese-inspired.'
In its original form, it decorated tapestries, slippers bags and cheongsams.  Rich base fabrics overlayed with sumptuous satin stitch embroideries almost lifelike in its detailing.
World over this type of embroidery art is still in vogue. Some prefer the soothing and balancing neutrals while there are others who like the bold and vibrant Chinoiserie.
I have mixed both to put together an eclectic collection – a juxtaposition of the old and new. I have used the Chinoiserie embroidery in my cushions, mats and runners. And if I may say so myself the embroidery and effect are stunning. I have played with colours and patterns using the flowers as my central theme. Contemporary bases like metallic shot cotton slub and velvet with traditional embroideries that have been made more commercial.
The Yang Runners in Gold or Silver added to your table or console tells a story of simple elegance. The Yang and Ming cushions also talk of understated luxury. But if you are looking for some colour, then the Hua and Quin cushions with their splash of florals in different colours can brighten up any room in a fun playful manner.
You can check out our cushions and runners right here and also shop for them. https://skyyliving.com/product-category/home-textiles/cushions/