Deck the halls with boughs of holly; Tis the season to be jolly
Tra-la-la-la-la-la-la
The year is drawing to a close and that means one thing – the holiday season is almost here. Soon the city and our homes will be shining with all the glitz and glam the festival brings with it. Some people have already set up their Christmas tree to welcome the holidays. But there are many like us who haven't.
We thought we would give you a Xmas DIY project that would add that something special to your Christmas and your celebrations.
Let's get started
Wine Lovers Craft
It doesn't matter whether you love red, rose or white wine. Drink it all up coz what you need are the corks that come with the wine bottles. I'm not saying go out and buy more bottles. The objective for me is to repurpose and recycle things you may find at home.
Materials
White paint
Orange paint
Paintbrushes
Sharpie black marker
Ribbon
Wooden toothpicks or skewers
Scissors
Twine
Small craft pom poms
Sparkly pipe cleaners
Hot glue gun
Instructions
Paint your wine corks with white paint. We used chalk paint because it dries quickly, but you can use any type of paint you wish.
Once the wine cork has dried completely, make two small eyes on the front of it with a black marker.
Cut the pointed end of a toothpick off with a pair of scissors to make a small nose for your wine cork snowman. Paint this orange or draw on the nose with a red sharpie.
Use hot-glue to attach the nose to the front of the wine cork under the eyes you drew.
Make a mouth for your snowman by placing small circles with the black marker under the nose.
Cut a small piece of ribbon and wrap it around the wine cork just under the mouth you have drawn on. Secure the ribbon in place with hot glue to make the ribbon into a short scarf.
Draw three small black circle buttons onto the front of your snowman under the scarf with the marker.
Glue two small craft pom poms to either side of your wine cork snowman's head. These will be his earmuffs.
Cut a small piece of sparkly pipe cleaner to serve as the band for the earmuffs. Glue one end of the pipe cleaner to the pom poms on either side of the snowman's head.
Glue a small loop of twine to the back of your snowman ornament to serve as a hanger for the snowman.
DIY Paper Wreath
We all have old books or magazines lying around which no one reads anymore. Instead of shunting them off to the kabadiwala, recycle the pages and make the cones for the wreath from it.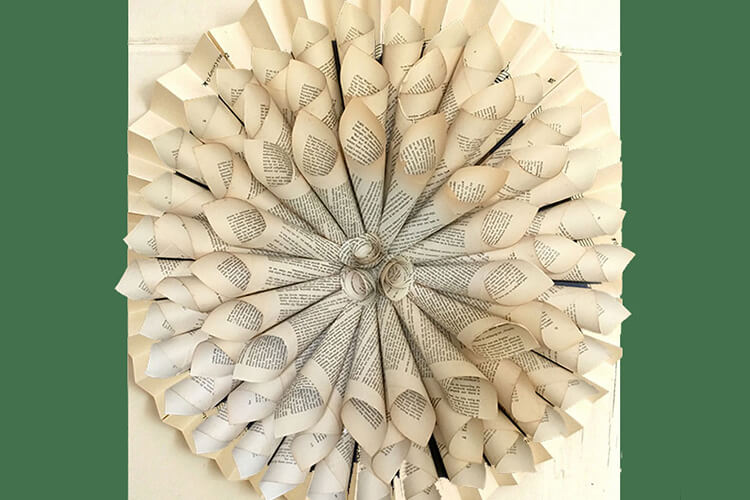 Materials:
Page pages from a book
Glue Stick or Masking Tape
Cardboard circle
Scissors
Hot glue gun
Glitter glue
Crepe paper, fabric or lace
Instructions:
Roll between 15 and 20 cones in your preferred cone-rolling method. Secure them using masking tape.
Take a cardboard circle that will serve as the base of your wreath. Draw a point in the middle of your circle and above it towards the edge cut a slit for the ribbon hanger.
Select some ribbon and thread it through the slit and tie in a knot or bow. You can make a hanger ribbon and bow.
Now you can start hot glueing the cones to the cardboard circle, using the belly button as your centre point of reference.
Once you have your cones glued to the base, you need to create a central decoration. Use an image, coloured pom-poms and ornament or even smaller rolls from the same paper- whatever you want to dress up your wreath. Stick this in the centre and your paper wreath is done.
These ornaments are simple to make and the kids will love it too. Make an activity out of it and watch them have loads of fun. Put up your tree, decorate it with these ornaments and watch everyone's reactions when they walk through the door. Everyone's going to love it!
Skyy wishes everyone a very Merry Xmas! Don't forget to tag us when you make these ornaments. We would love to see how they turned out.