The festive season is here and that means its time to turn up the voltage and bling – whether in what you're wearing or how you are dressing up your house to welcome Diwali.
So how can you add just the right amount of bling and zing to your home? The addition of metallic coloured accents in gold, silver and bronze works beautifully and adds instant glamour.
Whether you decide to opt for some shimmery silver, glittery gold or shiny brass, these eye-catching elements are perfect to welcome the Festival of Lights.
Metallic accents look amazing when they are mixed with other materials such as wood, glass or marble and work very well together to bring balance to a room.
To make your space shine with metals, follow these tips.
Be Creative
Try playing with different metals, finishes and tones. Mixing texture creates a personalized and unique space. Mixing natural stone, wood and velvets with metallic accents helps to create a multidimensional, beautiful and inviting space.
The addition of things like gold lamps, metal nesting side tables, and gold-trimmed display shelves also work very well in my room. Since this type of metallic finish is considered a neutral, it can be worked into any room no matter the colour scheme.
Soft Metallics
A room can be brightened up especially during the festive season with furnishings too. Cushions, runners, rugs in metallic hues or with tinges of silver and gold can really up the style and glamour in a room.
The Mason Cushions come in Cream, Gold and Silver combos, pair that with Ming, Zang or Simar Cushions and we guarantee it will be the talk of your home. The Yang runners are available in Silver & Gold and will be a wonderful addition to any gift.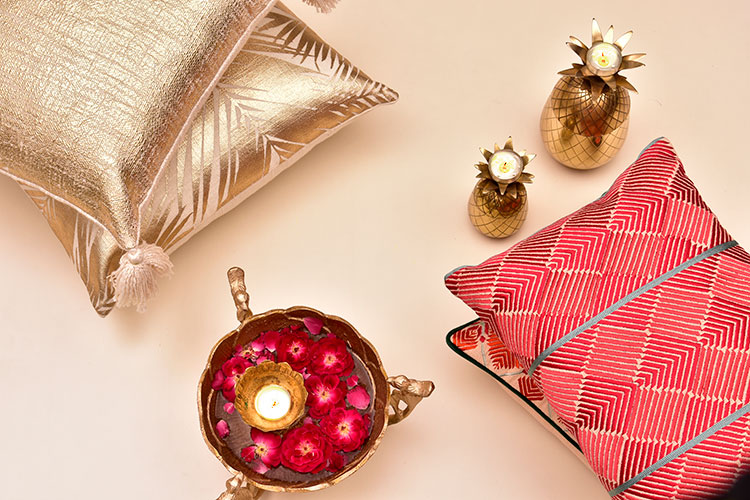 We recently added jute floormats to our collection and they have been selling like hotcakes. They come in colour as well as in metal shades. Check out the Karina and the Alia floormats. A little muted bling never hurt any room.
All the above make ideal gifts and we are giving a special Diwali discount.  So you should definitely not miss this opportunity.
Armed with these little tips, and a list of these must-have Diwali things, you are all set to welcome the Festival of Lights.
Skyy wishes everyone a very Happy Diwali. Stay safe and shining always!