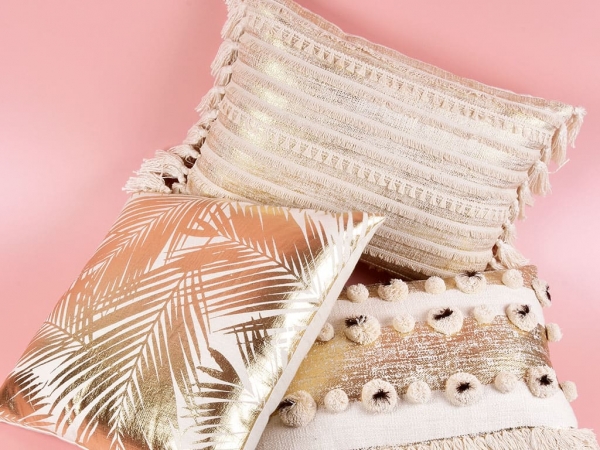 Kyiz Cushion Cover
Rs. 1,490.00
Kyiz cushion cover reflects the cosmopolitan needs of city dwellers. Decorating your space not only uplifts the vibe of the room but also reveals your style statement. This textured cotton fringe applique and gold foil cushion cover is an impeccable blend of gold with cream laces, adding a classy touch to the material. The cover is covered with fringed metallic stripes and is finished off with tassels around the edges. The metallic textured base and added fringes add a very sophisticated yet chic vibe.
 Size : 35 X 50 cm
Colour : CREAM & GOLD
Material/Content  : 100% Cotton
Availability: In stock
 Style: SKYY-TEX-CU-01
Add to Wishlist
Go to Wishlist
Wash and Care
Spot clean only. Iron on reverse.
Shipping & Delivery
We offer free shipping on orders above Rs. 1999. A nominal shipping charge of Rs. 149 on orders below Rs. 1999. Orders are delivered between 4-7 working days by our shipping partner unless specified otherwise.
Copyright
This design is the intellectual property of Skyyraa Design Projects LLP. All Rights Reserved.
Related products
Palms Cushion Cover

Our Palms cushion cover gives your home an exotic tropical infused touch with textured cotton printed over with metallics. The gold foil printed foliage on a subtle cream base makes a perfect concoction of glamour with tropical charm. A versatile piece that can be teamed with diverse pieces of décor to achieve a relaxed elegance and style.  Size : 45 X 45 cm Colour : CREAM & GOLD Material/Content  : 100% Cotton Availability: In stock  Style: SKYY-TEX-CU-04

Kerim Cushion Cover

Inspired by Moroccan weaves and made contemporary by metallic accents this Cushion Cover radiates a rich yet boho vibe. Textured fringes added along with tufted pompoms on the gold and cream base make it a statement piece. We recommend teaming it up with other Moroccan cushions like Lakai and the gold Mason pillow to create a fresh contemporary look.  Size : 35 X 50 cm Colour : CREAM & GOLD Material/Content  : 100% Cotton Availability: In stock  Style: SKYY-TEX-CU-03

Lakai Cushion Cover

Over the centuries Moroccan textiles stand as a testament to their expertise in art, aesthetics and colour. Each and every décor piece created inspired by Moroccan textiles is a unique piece of art. If you are looking to complete that living room or a sit out, this woven gold cream Lakai cushion cover with tufted textures accented with dull gold sequin is the perfect piece for you. The minimal touch of gold and metallic adds a touch of chic to the cover and will fit right into your space flawlessly.  Size : 50 X 50 cm Colour : CREAM & GOLD Material/Content  : 100% Cotton Availability: In stock  Style: SKYY-TEX-CU-02