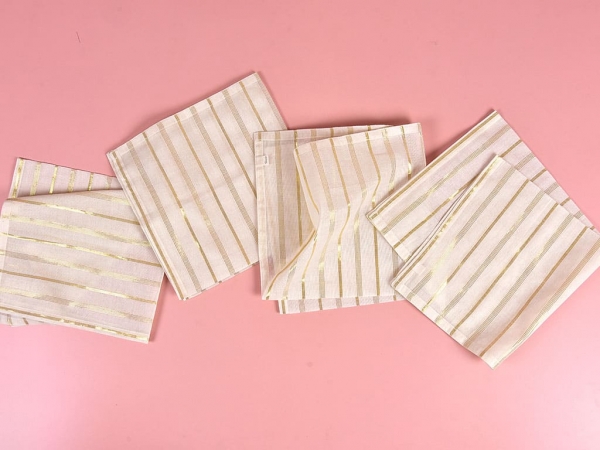 Keann Napkin – Set Of Four
Rs. 680.00
Our Keann napkins are a perfect dinner table accessory. Ivory cambric with gold lurex stripes they will immediately uplift your table setting. The colours make it versatile and easy to match. Available in sets of four so it's easy for you to decide how many you want based on your table size.
Size: 45 X 45 cm
Colour: CREAM GOLD
Material/Content: 100% Cotton
Availability: In stock
Style: SKYY-TEX-NP-06
Add to Wishlist
Go to Wishlist
Wash and Care
Hand wash separately. Dry in shade. Iron on reverse.
Shipping & Delivery
We offer free shipping on orders above Rs. 1999. A nominal shipping charge of Rs. 149 on orders below Rs. 1999. Orders are delivered between 4-7 working days by our shipping partner unless specified otherwise.
Copyright
This design is the intellectual property of Skyyraa Design Projects LLP. All Rights Reserved.
Related products
Yang Runner Gold

The Yang runner is available in two base fabric choices..ivory with silver and ivory with gold. Embroidered on a beautiful texture ground with black silk Chinoiserie flowers and finished with a woven fringe it is ideal for accentuating your dining table, console or sideboard. Size: 33 X 200 cm Colour: BLACK GOLD Material/Content: 90% Cotton, 10% Lurex Availability: In stock Style: SKYY-TEX-RN-01 (B)

Yang Runner Silver

The Yang runner is available in two base fabric choices.. ivory with silver and ivory with gold. Embroidered on a beautiful texture ground with black silk Chinoiserie flowers and finished with a woven fringe it is ideal for accentuating your dining table, console or sideboard. Size: 33 X 200 cm Colour: BLACK SILVER Material/Content : 90% Cotton, 10% Lurex Availability: In stock  Style: SKYY-TEX-RN-01 (A)

Maisy Napkin – Set Of Four

The Maisy napkin is an attractive and dressy cambric napkin with multicoloured lurex metallic stripes. Light and summery yet fancy enough for a dinner party these napkins are perfect! Available in sets of four so it's easy for you to decide how many you want based on your table size. Size: 45 X 45 cm Colour: MULTI Material/Content: 100% Cotton Availability: In stock Style: SKYY-TEX-NP-05